HC MID Hackathon 2021
Links for Saturday
for all participants: Zoom link (registered particiants will receive the passcode by email.)
for session hosts: editors' repository you can clone for your work today
Saturday, May 1, 2021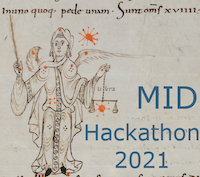 Welcome to home page for Holy Cross MID Hackathon 2021 - our first online hackathon event!
Our text this year will be the Aratus Latinus from the manuscript St. Gallen Stiftsbibliothek 250. You can find out more about our manuscript on the e-codices website, and can browse citable images here.
Summary of our schedule
Friday afternoon, Apr. 30: optionally drop in to MID's regular Friday Zoom meeting for a tech checkup. We can help you install or configure any software you need help with.
Saturday morning, May 1: walk-through of our new editing system with interactive notebooks to validate your editing!
Saturday afternoon, May 1: you'll work with one or more current MID students to edit a selection from our manuscript.
Technical preparation
You can participate in our hackathon in either of two roles:
Contributing editors can work entirely in a web browser. In addition, you can have a little more flexibility in your participation if you download the text editor we use to collaborate remotely, Visual Studio Code
Hosts: in addition to a web browser, hosts should install Visual Studio Code, and the Julia language. That's it!
---